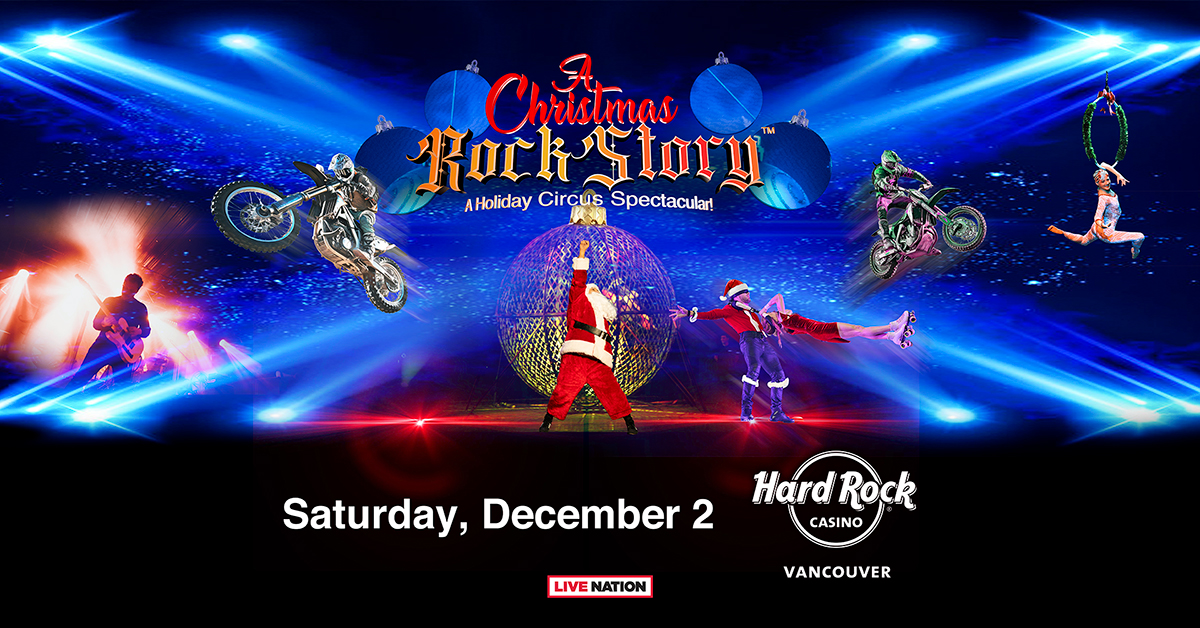 A Christmas RockStory – A Holiday Circus Spectacular
PUBLISHED: September 11, 2023 | LAST UPDATED: September 28, 2023
A CHRISTMAS ROCKSTORY is an electrifying and heartwarming stage show that combines the excitement of rock music with the festive cheer of a Christmas circus!
The show features a cast of talented and award-winning specialty acts and acrobats who dazzle the audience with their jaw-dropping performances. From acrobatics and aerial stunts to edge-of-your-seat daredevils, the circus performers showcase their extraordinary skills in an awe-inspiring display of talent.
The high-energy rock music soundtrack, featuring both original songs and beloved Christmas classics, sets the tone for a thrilling and unforgettable experience!
Follow the heart-warming story of Max, a larger-than-life rockstar who is accidentally scheduled to perform in a Christmas show. Initially hesitant and keen on avoiding the festive season altogether, Max gradually discovers the true essence of Christmas as he immerses himself in the music, colors, and the ultimately, in the Spirit of Christmas. Join Max in a unique holiday adventure like no other!
With its unique blend of rock music, circus arts, and holiday spirit, "A Christmas Rockstory" is an AMAZING show that promises to captivate audiences of all ages and leave them with a heartwarming and memorable experience. It's a perfect celebration of the holiday season with a rockstar twist! So, get ready to be transported to a world of rock and circus magic in this one-of-a-kind Holiday extravaganza.
Don't miss out on the thrilling and heartwarming adventure of "A Christmas Rockstory"!
Tickets
Tickets are on sale now at Ticketmaster.ca.
This is an all ages event.