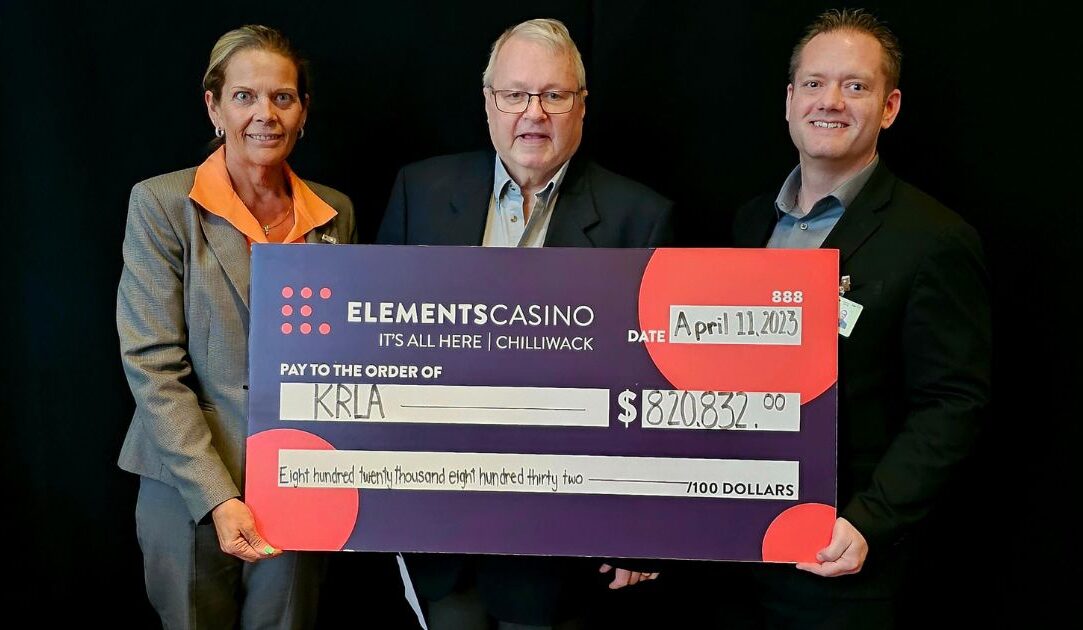 Elements Casino Chilliwack Presents $820K to Knight Road Legacy Association for Community Support
ELEMENTS CASINO CHILLIWACK PRESENTS $820K TO KNIGHT ROAD LEGACY ASSOCIATION FOR COMMUNITY SUPPORT
Funds will help support local charitable and not-for-profit organizations in Chilliwack, BC, and marks the largest single-payment community investment for the Chilliwack-based casino
Chilliwack, BC (April 12, 2023): The Knight Road Legacy Association (KRLA) was presented with its largest annual payment from Elements Casino Chilliwack totalling $820,832. Presented during its annual dinner on April 11th, the funds will benefit 47 local charities throughout Chilliwack, BC, and neighbouring communities.
The $820,832 payment is part of a 20-year revenue sharing agreement signed in 2012. Under this agreement, KRLA (the original operator under the name Chilliwack Bingo Association at the former Chilliwack Bingo Hall) will continue to receive a share of slot machine revenue from Elements Casino Chilliwack for the next 10 years.
Since its first payment in 2013, the Great Canadian Entertainment gaming facility has paid over $4.3 million to KRLA, to pass along to vital local charitable and not-for-profit organizations.
"We're delighted to make this payment to KRLA based on Elements Casino Chilliwack's 2022 performance, which will help support local residents," said Shawn Duncan, Regional Vice President, Operations at Great Canadian Entertainment. "After the impact the pandemic had on the business, we are so pleased to be able to provide an exceptional guest experience once again at Elements Casino Chilliwack which, in turn, helps us offer significant funding that goes a long way in supporting the important work of local charities and not-for-profit organizations."
Funds received from Elements Casino Chilliwack help support local community programs and services offered by the following 47 organizations:
Airwolf Air Cadets
1725 Royal Canadian Military Army Cadets
Alano Club of Chilliwack
Ann Davis Transition Society
Big Brothers Big Sisters Upper Fraser Valley
Chilliwack & District Agricultural Society
Chilliwack Academy of Music
Chilliwack Community Arts Council
Chilliwack Community Band
Chilliwack Community Services
Chilliwack District Seniors Resource Society
Chilliwack Elks Lodge #48 BPOE
Chilliwack Family YMCA
Chilliwack Flight Festival Society
Chilliwack Hospice Society
Chilliwack Hospital Aux Fraser Valley Health Foundation
Chilliwack Knights of Columbus
Chilliwack Minor Baseball
Chilliwack Minor Fastpitch
Chilliwack Minor Football
Chilliwack Minor Lacrosse
Chilliwack Museum & Historical Society
Cultus Lake Community School
Cultus Lake-Chilliwack Stingrays Swim Club
Fraser Valley Brain Injury
Fraser Valley Junior Football
Fraser Valley Shriner Club #11
Greater Vancouver Ski Patrol
Harrison Festival Society
Hobby Hill Preschool
Kiwanis Club of Chilliwack
Kiwanis Club of Sardis
Stellar's Jay Lions
Mount Cheam Lions
Optimist Club of Chilliwack
Rotary Club Chilliwack Fraser
Rotary Club Mt Cheam
Royal Canadian Legion Branch #295
Royal Canadian Legion Branch #295 LA
Sardis Elementary PAC
Sardis Fliers Speed Skating
Soroptimist International of Chilliwack
Spartan Swim Club
Track & Field Chilliwack
Vancouver Adapted Music
Vedder Elementary PAC
Watson Elementary PAC
"On behalf of KRLA and our 47 organizations, it is my pleasure to receive this year's payment for trailing fees, which is the largest to date," stated R. Jerry Wernicke, President, KRLA. "Our members look forward to receiving their share so they can continue supporting our great community of Chilliwack. Over the past 10 years, it has been a wonderful experience working with Great Canadian Entertainment and Elements Casino Chilliwack and we look forward to the next 10 years," concluded Wernicke.
About Great Canadian Entertainment
Founded in 1982, Great Canadian Entertainment is Canada's premier gaming and hospitality company with 25 gaming, entertainment and hospitality facilities in British Columbia, Ontario, New Brunswick, and Nova Scotia. Committed to investing in, and offering opportunities to those in the communities in which it operates, Great Canadian supports hundreds of charitable and non-profit organizations across Canada under its PROUD program; "PROUD of our community, our people, our business". A significant portion of gross gaming revenue from Great Canadian's gaming facilities is retained by Crown partners on behalf of their provincial governments for the purpose of supporting programs that benefit healthcare, education, and social services in Canada.
To learn more, please visit greatcanadian.com or follow us on social media:

Media Contact:
For media enquiries, email media@greatcanadian.com