Great Canadian Entertainment Announces Opening Date for $1 Billion Great Canadian Casino Resort Toronto, Canada's Newest and Largest Destination Casino Resort
Brand-new destination will open casino and multiple dining outlets on June 20
TORONTO, ON (June 14, 2023) – Great Canadian Entertainment, the leader in gaming and hospitality in Canada, proudly announces the highly anticipated inauguration of its Great Canadian Casino Resort Toronto ("Great Canadian Toronto") with the opening of its brand-new, modern casino and multiple restaurants at 5:00 p.m. on June 20, 2023. This landmark development will revolutionize Toronto's entertainment landscape, creating an exhilarating experience for gaming enthusiasts and entertainment lovers alike.
With transformative architecture, the new, modern Great Canadian Toronto encompasses a staggering 328,000 square feet of gaming space, including over 4,800 slot machines and 145 table games, solidifying its position as the largest casino in Canada and one of the largest in North America. With an unparalleled variety of gaming experiences, exclusive VIP rooms, and state-of-the-art sports betting kiosks, Great Canadian Toronto promises an entertainment experience like no other.
Situated adjacent to Woodbine Racetrack, this all-encompassing resort will seamlessly integrate a modern, Vegas-style casino, a 400-room hotel, 5,000-person live entertainment venue, and an array of exceptional on-site dining options. Great Canadian Toronto will deliver superior gaming, entertainment, and hospitality experiences, all within its impressive 33-acre domain, conveniently located near the interchange of Highways 401 and 427.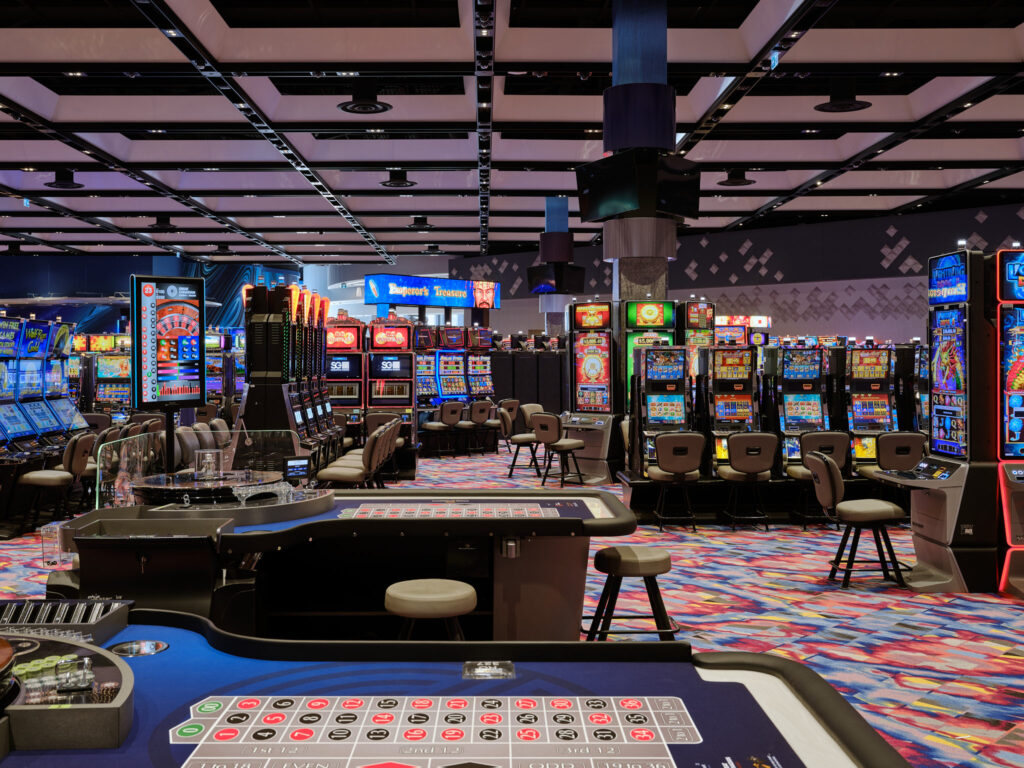 With an investment of approximately $1 billion, Great Canadian Toronto is one of the largest private sector projects currently in Ontario and will generate over $500 million in economic impact.
"We are thrilled to announce that our highly anticipated new casino will open on June 20. With meticulous attention to detail, state-of-the-art amenities, and a commitment to exceptional guest experiences, our landmark entertainment resort is a game-changer in Toronto," said Matthew Anfinson, CEO, Great Canadian Entertainment.
Consistent with Great Canadian Entertainment's commitment to responsible gaming, the company, along with its partner, Ontario Lottery and Gaming Corporation, remain focused on promoting safe play to keep the fun in the game. As part of that commitment, the destination will feature a PlaySmart Centre on the gaming floor, filled with engaging interactive tools and valuable responsible gambling resources available for all players.
Casino Woodbine will continue to operate without any interruption until the grand debut of the new Great Canadian Casino Resort Toronto. This seamless transition ensures that guests will continue to enjoy gaming experiences until the new facility opens.
About Great Canadian Entertainment
Founded in 1982, Great Canadian Entertainment is Canada's premier gaming and hospitality company with 25 gaming, entertainment, hospitality and resort facilities in Ontario, British Columbia, New Brunswick, and Nova Scotia. Great Canadian Casino Resort Toronto, Canada's newest and largest casino resort, is scheduled to open on June 20, 2023, and will include a 400-room hotel, 5,000-person entertainment venue, 3,000 space covered parkade, and multiple on-site dining options.
Committed to investing in and offering opportunity to those in the communities in which it operates, Great Canadian supports over 1,400 charitable and non-profit organizations across Canada under its PROUD program; "PROUD of our people, our business, our community". A significant portion of gross gaming revenue from Great Canadian's gaming facilities is retained by Crown partners on behalf of their provincial governments for the purpose of supporting programs that benefit healthcare, education, and social services in Canada. To learn more, please visit www.greatcanadian.com or follow us on Twitter, Instagram, Facebook and LinkedIn.