Elements Casino Flamboro Celebrates $100M to City of Hamilton Through OLG
HAMILTON, ON (July 5, 2023) – Have you ever wondered what $100,000,000 would look like?!  Elements Casino Flamboro showed its guests and community partners just that on June 29th as they hosted OLG, representatives from the City of Hamilton, and local community partners to celebrate a major community impact milestone — $100 million provided to the city as a gaming host community, paid through OLG since the facility opened in 1999.
These quarterly payments made to City of Hamilton are part of a Municipality Contribution Agreement (MCA) between OLG and the City, and are driven by gaming revenue at Elements Casino Flamboro.
"We're very proud to join OLG and announce this significant milestone for the facility, OLG and the City of Hamilton," said Craig Betts, Regional Vice President, GTA West Operations at Great Canadian Entertainment. "These MCA payments are a great outcome for the Hamilton community, as a result of gaming, and we look forward to continuing our focus on providing best-in-class service to our guests which, in turn, will provide a multitude of positive economic benefits for the City of Hamilton."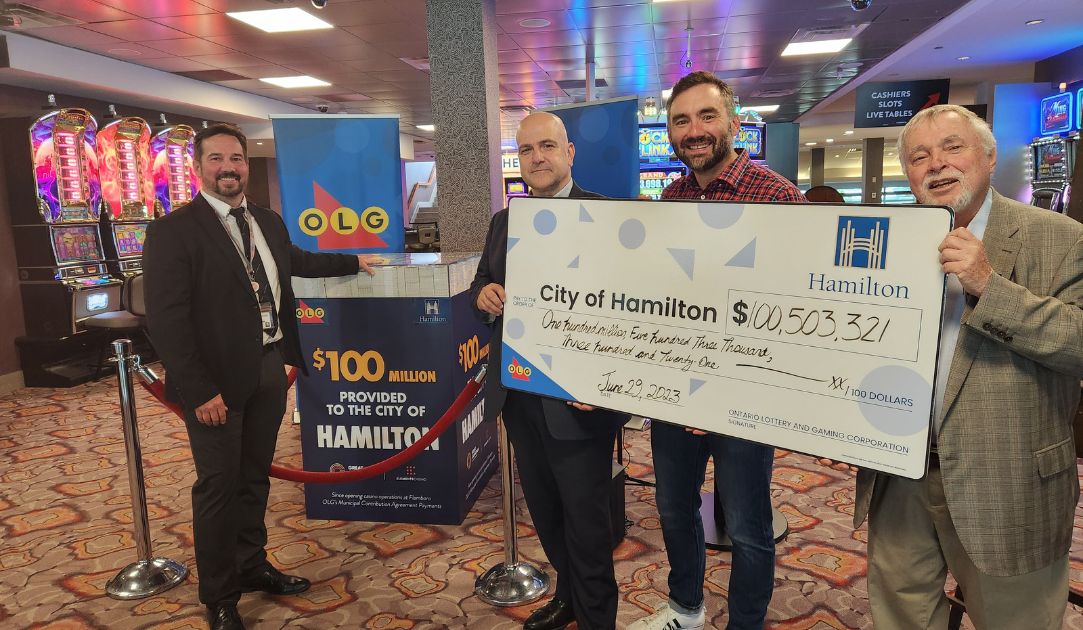 (Left to right) Sean Coyle, General Manager – Elements Casino Flamboro, Norm Schleehahn, Director of Economic Development, City of Hamilton, Greg Dunnett, President & CEO, Hamilton Chamber of Commerce, Ted McMeekin, Ward 15 Councillor, Flamborough Waterdown
City of Hamilton received over $5.3 million in municipal contribution agreement payments from OLG in FY22/23 ending March 31, 2023, an impressive 47% increase from the prior year.
Elements Casino Flamboro employs approximately 150 team members to operate the facility, in addition to the team members employed at the Flamboro Downs racetrack. Approximately 50% of team members employed at the casino are also residents of Hamilton.
About Great Canadian Entertainment
Founded in 1982, Great Canadian Entertainment is Canada's premier gaming and hospitality company with 25 gaming, entertainment, hospitality and resort facilities in Ontario, British Columbia, New Brunswick, and Nova Scotia.
Committed to investing in and offering opportunity to those in the communities in which it operates, Great Canadian supports over 350 charitable and non-profit organizations across Canada under its PROUD program; "PROUD of our people, our business, our community". A significant portion of gross gaming revenue from Great Canadian's gaming facilities is retained by Crown partners on behalf of their provincial governments for the purpose of supporting programs that benefit healthcare, education, and social services in Canada. To learn more, please visit www.greatcanadian.com or follow us on Twitter, Instagram, Facebook and LinkedIn.