Great Canadian Casino Resort Toronto Announces Exciting Developments: Opening of New Poker Room this Summer & The Hotel Opening its Doors on August 1

TORONTO (July 6, 2023) – The new Great Canadian Casino Resort Toronto ("Great Canadian Toronto") is proud to unveil the latest developments at the landmark $1 billion property. Great Canadian Toronto will introduce the Poker Room at Great Canadian Toronto later this summer, and the opening of the brand-new 400-room The Hotel at Great Canadian Casino Resort Toronto on August 1. Reservations for The Hotel are now open and can be made by visiting Great Canadian Toronto's website.
The first phase of Great Canadian Toronto opened on June 20, unveiling a new gaming floor featuring 4,800 slot machines, 145 table games, a variety of dining options and a 3,800-space parkade. The opening of the poker room and hotel are the next significant milestones in the destination's development, followed in the coming months with the opening of a state-of-the-art 5,000-person entertainment venue, additional dining options and retail.
As part of the Great Canadian Toronto's commitment to responsible gambling, the property also features two PlaySmart Centres on the gaming floor, filled with engaging interactive tools and valuable responsible gambling resources available for all players, including information on how to participate in OLG's voluntary My PlayBreak program if they choose to take a break from gambling.
The new poker room will cater to the market's vibrant poker community. When complete, the poker room will offer 30 tables on a completely private floor with electronic table games and slots available for those waiting and 'No Limit' and 'Limit' stakes at varying levels, setting the stage for thrilling gameplay. The addition of larger poker tournaments will also be a main feature in the new poker room.
For players seeking an elevated gaming experience, the poker room will include four tables situated in a semi-private area. This exclusive section will cater to higher stakes games and final tables, creating an intimate setting for discerning players.
The introduction of poker at Great Canadian Toronto will also provide exciting opportunities for poker players at Great Blue Heron Casino and Hotel ("Great Blue Heron"). Both properties will offer entry into some of Canada's largest poker tournaments, further solidifying their positions as premier poker destinations. Additionally, with combined "Bad Beat" Jackpots connecting players from both Great Canadian Toronto and Great Blue Heron, the properties will aim to establish themselves as a leading destination for both local and international poker enthusiasts.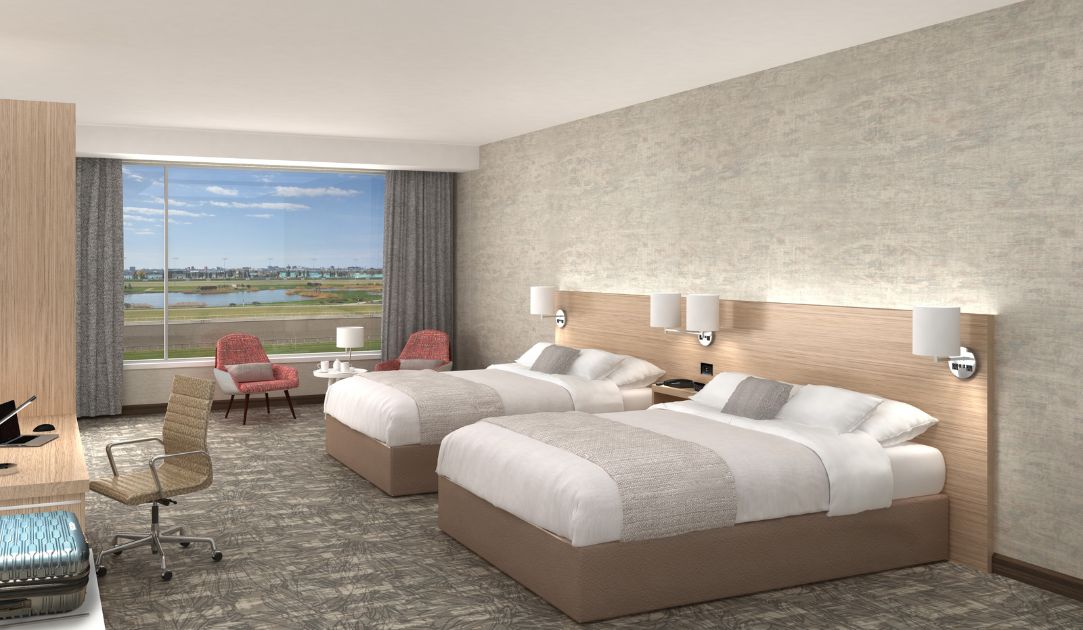 Rendering of a Double Queen room at The Hotel at Great Canadian Casino Resort Toronto
The much-anticipated opening of The Hotel at Great Canadian Toronto on August 1 marks an opportunity to cater to both leisure and business travellers. With 400 well-appointed rooms, The Hotel promises an extraordinary experience, blending modernity, comfort, and excitement under one roof.
Nestled just minutes from Toronto Pearson Airport, nearly half of the guest rooms boast breathtaking views of the legendary Woodbine Racetrack. These spacious accommodations range from 400 square feet to 840 square feet and include several accessible rooms and suites, catering to the diverse needs and preferences of guests.
Each guest room is thoughtfully equipped with modern amenities including a 55" Smart TV, in-room safe, complimentary Wi-Fi, mini fridge, and a coffee maker, providing convenience at their fingertips.
For those seeking a truly indulgent experience, prestige suites offer an array of additional features including a separate living room, a fully equipped kitchenette with a full-size fridge and microwave, and a spacious bathroom featuring a separate tub and shower.
Additionally, The Hotel will soon unveil its wellness area – a dedicated space that will include a state-of-the-art fitness centre with best-in-class equipment, and a wet area featuring a heated indoor pool, a hot tub, and a steam room. The wellness area is set to open over the next several weeks in different phases offering guests the ultimate retreat when enjoying the many amenities at the property from its casual and fine dining restaurants to gaming and live entertainment when the 5,000-person The Theatre opens.
Great Canadian Rewards members can take advantage of exclusive offers, including the lowest available rates, free or discounted stays, and other valuable benefits at Great Canadian Toronto, and across the company's 12 destinations in Ontario. The program is free to join.
About Great Canadian Casino Resort Toronto
Great Canadian Casino Resort Toronto, Canada's newest and largest casino resort opened in June 2023. The $1 billion landmark entertainment destination features 328,000 sq. ft. of gaming space, 400-room hotel, indoor pool, wellness and fitness area, multiple dining options, private event and flexible meeting space, and 5,000-person live entertainment venue in association with Live Nation, which will play host to the best in live music, comedy, and special events. For more information please visit greatcanadiantoronto.com or follow us on Instagram, Twitter, and Facebook.
About Great Canadian Entertainment
Founded in 1982, Great Canadian Entertainment is Canada's premier gaming and hospitality company with 25 gaming, entertainment, hospitality and resort facilities in Ontario, British Columbia, New Brunswick, and Nova Scotia.
Committed to investing in and offering opportunity to those in the communities in which it operates, Great Canadian supports over 1,400 charitable and non-profit organizations across Canada under its PROUD program; "PROUD of our people, our business, our community". A significant portion of gross gaming revenue from Great Canadian's gaming facilities is retained by Crown partners on behalf of their provincial governments for the purpose of supporting programs that benefit healthcare, education, and social services in Canada. To learn more, please visit www.greatcanadian.com or follow us on Twitter, Instagram, Facebook and LinkedIn.
Exterior of Hotel photo credit/ doublespace photography